Manufacturing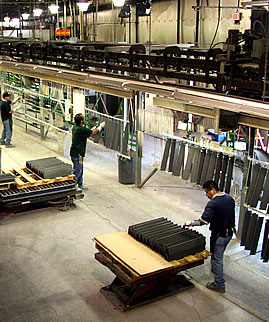 Lozier has over 4.3 million square feet of manufacturing and distribution space spread out over 7 strategically located facilities nationwide. That's a lot of space and a lot of flexibility for our customers, something you won't find with every supplier.
Part of our service commitment is making sure we have the capability to produce the quality products you want within the timeframes you need. That's why Lozier continues to invest substantially in our people, facilities, processes and technology every year. For example, by increasing our investment in robotic machines for repetitive work, we're able to use our skilled workers for projects needing more attention to detail. We're proud of our quality and commitment to excellence, but we never stop looking for ways to improve.
Though we have plants that specialize in certain areas, such as wire and tube, one of our key operational focuses is flexibility. We believe the best way to achieve consistent delivery performance and good cost control is to have equipment, processes and systems that easily accommodate changes. Whether that means quickly changing the setup on a line to run a different product or shifting work to another facility in order to meet high volume rollout deadlines, we're prepared to do what it takes to meet our customers' needs.
Save
Save