Design & Engineering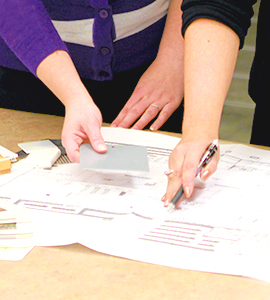 Lozier's in-house design and product development team provides support at any level of involvement…all at no extra cost to you. From creating new shop concepts and store fixtures to supporting development and implementation of your own designs, we'll collaborate with you to turn ideas into reality. Plus, our 3D models and color renderings of concepts allow for quick development of proposed solutions, facilitating the decision-making process.
Services Available to Meet your Needs:

Concept Generation
Color Renderings
3-D Modeling
CAD Design
Exploded View Schematics
Shop Drawings
Design Intent Documentation
Material/Finish Options & Sourcing
Engineering & Prototype Coordination
Installation Guides
Fixture Books
Assistance Meeting Seismic Requirements
Lozier's design and product development experts work hand-in-hand with our engineering team to ensure the fixtures we design are durable, safe, and in line with both our specs and yours. Our familiarity with a wide range of materials and capabilities allows us to find the right combination to support your brand and meet your timeframes. As your partner, we constantly seek ways to drive down costs, extending your fixturing budget while maintaining the quality of our products.
From prototypes to test stores to rollouts, we make improvements as needed to ensure fixtures meet your stores' needs without compromising the integrity of your concept.
Save
Save